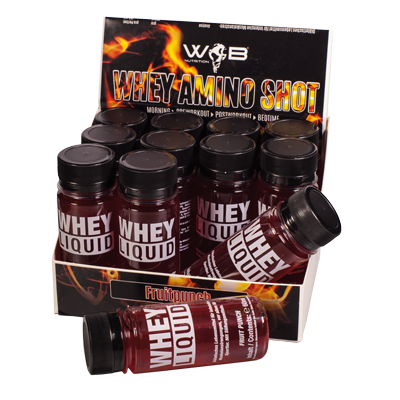 WHEY AMINO SHOT
Supplement
WHEY AMINO SHOT
Whey amino acid preparation – even on the go.
Whey Amino Shot supplies your muscles in everyday life or immediately after training with high doses of amino acids in an ampoule. Ensures the regeneration of your muscles. Each ampoule contains 25.2 g of the most important amino acids and less than 0.1 g of carbohydrates.
Water, collagen hydrolyzate, acidifier (lactic acid), whey protein hydrolyzate, aroma, preservative (potassium sorbate), sweeteners (sodium cyclamate, acesulfame K, saccharin), emulsifier (E471), color (E 129).
| Amino acid | pro 100 ml | pro Portion ( 60 ml ) |
| --- | --- | --- |
| L-alanine | 3,50 g | 2,1 g |
| L-arginine | 2,80 g | 1,68 g |
| L-aspartic acid | 2,23 g | 1,33 g |
| L-Cysteine | 0,04 g | 0,02 g |
| L-glutamic acid | 4,29 g | 2,57 g |
| L-Glycine | 7,58 g | 4,54 g |
| L-Histidine | 0,35 g | 0,21 g |
| L-Leucine | 1,23 g | 0,74 g |
| L-Isoleucine | 0,62 g | 0,37 g |
| L-Lysin | 1,47 g | 0,88 g |
| L-Methionin | 0,03 g | 0,01 g |
| L-Phenylalanin | 0,73 g | 0,44 g |
| L-Proline | 4,17 g | 2,50 g |
| L-Serine | 1,35 g | 0,81 g |
| L-Threonin | 0,79 g | 0,47 g |
| L-Tryptophan | 0,22 g | 0,13 g |
| L-Tyrosin | 0,03 g | 0,02 g |
| L-Valin2 | 0,93 g | 0,56 g |
| L-Net weight per display | 0,31 g | 0,18 g |
| L-Hydroxyproline | 4,71 g | 2,83 g |