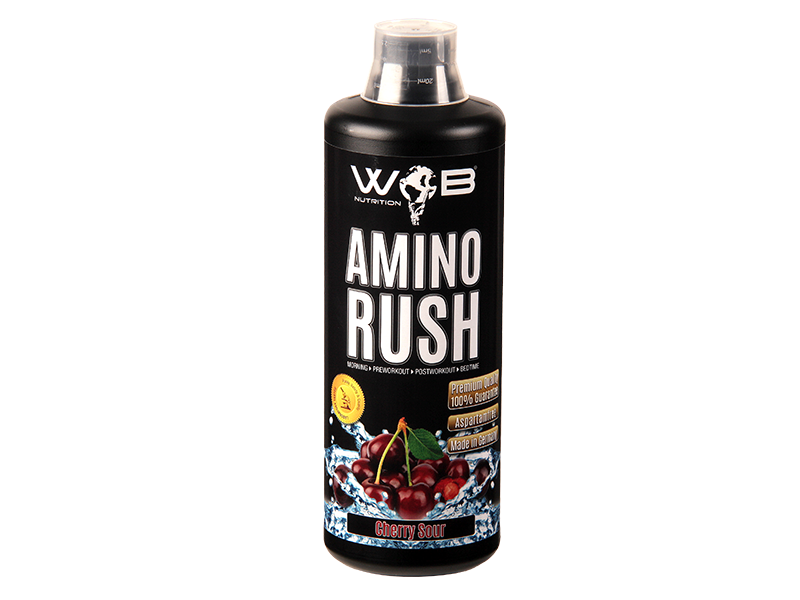 AMINO RUSH LIQUIT/SHOT
Supplement
AMINO RUSH
Liquid amino acids for intense muscular effort with vitamin B6 – low carbohydrates.
This product provides your muscles in a very short time with the most important amino acids before, during or after an intense workout. This allows rapid recovery of the muscles.
Water, protein hydrolyzate (45.7%), fructose, citric acid, flavoring, preservative: potassium sorbate, sour cherry fruit powder (0.1%), sweeteners (sodium cyclamate, acesulfame K, saccharin), pyridoxine hydrochloride (vitamin B6), colors (E 122, E 124).
| Amino acid profile | pro 100 ml | pro 25ml |
| --- | --- | --- |
| L-Alanine | 9,0 g | 1,02 g |
| L-Methionin | 0,8 g | 0,09 g |
| L-Arginine | 7,6 g | 0,86 g |
| L-Phenylalanin | 2,3 g | 0,26 g |
| L-aspartic acid | 5,7 g | 0,65 g |
| L-Proline | 13,1 g | 1,48 g |
| L-Cysteine | 0,1 g | 0,01 g |
| L-Serine | 3,1 g | 0,35 g |
| L-glutamic acid | 10,3 g | 1,17 g |
| L-Threonin | 1,8 g | 0,20 g |
| L-Glycine | 22,6 g | 2,56 g |
| L-Tryptophan | 0,1 g | 0,01 g |
| L-Histidine | 0,6 g | 0,07 g |
| L-Tyrosin | 0,4 g | 0,05 g |
| L-Leucine | 1,3 g | 0,15 g |
| L-Valin | 2,4 g | 0,27 g |
| L-Isoleucine | 2,9 g | 0,33 g |
| L-Hydroxylysine | 0,9 g | 0,10 g |
| L-Lysin | 4,0 g | 0,45 g |
| L-Hydroxyproline | 11,0 g | 1,25 g |
| Analysis | pro 100ml | 25ml pure or with water |
| --- | --- | --- |
| physiological value | 1066 kJ/250kcal | 266 kJ/63kcal |
| Whey | 45,3 g | 11,3 g |
| Carbohydrates | 14,4 g | 3,6 g |
| of which sugars | 14,4 g | 3,6 g |
| Fat | < 0,1 g | < 0,1 g |
| of which saturated fatty acids | < 0,1 g | < 0,1 g |
| Dietary fiber | < 0,1 g | < 0,1 g |
| Sodium | 0,005 g | 0,001 g |
| Vitamins | pro 100ml (RDA*) | pro Portion (RDA*) |
| Vitamin B6 | 5,6 mg (400 %) | 1,4 mg (100%) |
| Analysis | pro 100ml | pro Portion 25ml pure or with water |
| --- | --- | --- |
| physiological value | 1066 kJ/250kcal | 266 kJ/63kcal |
| Whey | 45,3 g | 11,3 g |
| Carbohydrates | 14,5 g | 3,6 g |
| of which sugars | 14,5 g | 3,6 g |
| Fat | < 0,1 g | < 0,1 g |
| of which saturated fatty acids | < 0,1 g | < 0,1 g |
| Dietary fiber | < 0,1 g | < 0,1 g |
| Sodium | 0,005 g | 0,001 g |
| Vitamins | pro 100ml (RDA*) | pro Portion (RDA*) |
| Vitamin B6 | 5,6 mg (400 %) | 1,4 mg (100%) |
| Amino acid | pro 100g Whey | pro 100ml |
| --- | --- | --- |
| L-Alanine | 9,0 g | 1,02 g |
| L-Arginine | 7,6 g | 0,86 g |
| L-aspartic acid | 5,7 g | 0,65 g |
| L-Cysteine | 0,1 g | 0,01 g |
| L-glutamic acid | 10,3 g | 1,17 g |
| L-Glycine | 22,6 g | 2,56 g |
| L-Histidine | 0,6 g | 0,07 g |
| L-Leucine | 1,3 g | 0,15 g |
| L-Isoleucine | 2,9 g | 0,33 g |
| L-Lysin | 4,0 g | 0,45 g |
| L-Methionin | 0,8 g | 0,09 g |
| L-Phenylalanin | 2,3 g | 0,26 g |
| L-Proline | 13,1 g | 1,48 g |
| L-Serine | 3,1 g | 0,35 g |
| L-Threonin | 1,8 g | 0,20 g |
| L-Tryptophan | 0,1 g | 0,01 g |
| L-Tyrosin | 0,4 g | 0,05 g |
| L-Valin | 2,4 g | 0,27 g |
| L-Hydroxylysine | 0,9 g | 0,10 g |
| L-Hydroxyproline | 11,0 g | 1,25 g |
| Analysis | pro 100ml | pro Portion 25ml pure or with water |
| --- | --- | --- |
| physiological value | 1066 kJ/250kcal | 266 kJ/63 kcal |
| Whey | 45,3 g | 11,3 g |
| Carbohydrates | 14,4 g | 3,6 g |
| of which sugars | 14,4 g | 3,6 g |
| Fat | < 0,1 g | < 0,1 g |
| of which saturated fatty acids | < 0,1 g | < 0,1 g |
| Dietary fiber | < 0,1 g | < 0,1 g |
| Sodium | 0,005 g | 0,001 g |
| Vitamins | pro 100ml (RDA*) | pro Portion (RDA*) |
| Vitamin B6 | 5,6 mg (400 %) | 1,4 mg (100%) |
| Amino acid | pro 100g Whey | pro 100 ml |
| --- | --- | --- |
| L-Alanine | 9,0 g | 1,02 g |
| L-Arginine | 7,6 g | 0,86 g |
| L-aspartic acid | 5,7 g | 0,65 g |
| L-Cysteine | 0,1 g | 0,01 g |
| L-glutamic acid | 10,3 g | 1,17 g |
| L-Glycine | 22,6 g | 2,56 g |
| L-Histidine | 0,6 g | 0,07 g |
| L-Leucine | 1,3 g | 0,15 g |
| L-Isoleucine | 2,9 g | 0,33 g |
| L-Lysin | 4,0 g | 0,45 g |
| L-Methionin | 0,8 g | 0,09 g |
| L-Phenylalanin | 2,3 g | 0,26 g |
| L-Proline | 13,1 g | 1,48 g |
| L-Serine | 3,1 g | 0,35 g |
| L-Threonin | 1,8 g | 0,20 g |
| L-Tryptophan | 0,1 g | 0,01 g |
| L-Tyrosin | 0,4 g | 0,05 g |
| L-Valin | 2,4 g | 0,27 g |
| L-Hydroxylysine | 0,9 g | 0,10 g |
| L-Hydroxyproline | 11,0 g | 1,25 g |
| Analysis | Pro 100 g | Pro Portion (8 g in 200 ml water) |
| --- | --- | --- |
| physiological value | 1398 kJ/328 kcal | 111 kJ/26,2 kcal |
| Whey | 25,4 g | 2,0 g |
| of which L-Arginin | 11,6 g | 0,93 g |
| of which L-Leucin | 4,0 g | 0,32 g |
| of which L-Valin | 2,0 g | 0,16 g |
| of which L-Isoleucin | 2,0 g | 0,16 g |
| of which L-Glutaminpeptid | 1,2 g | 0,1 g |
| of which L-Lysin | 0,6 g | 0,05 g |
| of which L-Methionin | 0,6 g | 0,05 g |
| of which L-Threonin | 0,6 g | 0,05 g |
| of which L-Tryptophan | 0,3 g | 0,02 g |
| of which L-Phenylalanin | 0,3 g | 0,02 g |
| Carbohydrates | 49,1 g | 3,9 g |
| of which sugars | 38,9 g | 3,1 g |
| of which Isomaltulose | 20,7 g | 1,7 g |
| Fat | 0,1 g | < 0,1 g |
| of which saturated fatty acids | < 0,1 g | < 0,1 g |
| Dietary fiber | < 0,1 g | < 0,1 g |
| Sodium | 0,067 g | 0,005 g |
| Creatine | 8,0 g | 0,6 g |
| Taurin | 5,0 g | 0,4 g |
| Caffeine | 475 mg | 38,0 mg |
| which from Guarana extract | 100 mg | 8,0 mg |
| | Pro 100 g | %RDA** | Pro Portion | %RDA** |
| --- | --- | --- | --- | --- |
| Vitamin C | 240 mg | 300 | 19,2 mg | 24 |
| Niacin | 48,0 mg | 300 | 3,8 mg | 24 |
| Vitamin E | 36,0 mg | 300 | 2,8 mg | 24 |
| Pantothenic Acid | 18,0 mg | 300 | 1,4 mg | 24 |
| Vitamin B6 | 4,2 mg | 300 | 0,33 mg | 24 |
| Vitamin B2 | 4,2 mg | 300 | 0,33 mg | 24 |
| Vitamin B1 | 3,3 mg | 300 | 0,26 mg | 24 |
| Folic Acid | 600 µg | 300 | 48,0 µg | 24 |
| Biotin | 150 µg | 300 | 12,0 µg | 24 |
| Vitamin B12 | 7,5 µg | 300 | 0,60 µg | 24 |