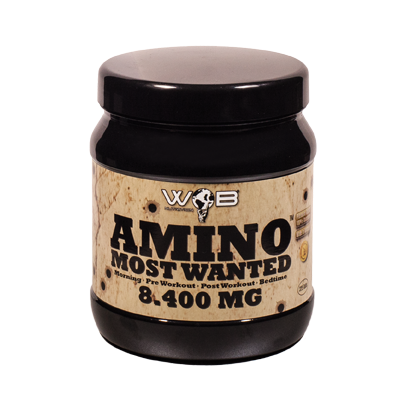 AMINO MOST WANTED
Supplement
AMINO MOST WANTED
For muscle development in the body and for relaxation.
Amino acids are the main building blocks of muscle. Stress and poor diet can lead to a lack of amino acids in the body and result in a weak immune system and fatigue. Amino acids stimulate muscle growth and can also improve the structure of skin and hair. Amino Most Wanted, the smart choice for your body!
Whey protein concentrate, soy protein isolate, dicalcium phosphate, releasing agent (magnesium stearate, silicon dioxide), whey protein hydrolyzate.
| Nutritional information | pro 100 g | 2 Tabl. RDA |
| --- | --- | --- |
| physiological value | 1283 kJ/303 kcal | 53,9 kJ/12,7 kcal |
| Whey | 65,4 g | 2,7 g |
| Carbohydrates | 3,0 g | 0,1 g |
| of which sugars | 3,0 g | 0,1 g |
| Fat | 3,1 g | 0,1 g |
| of which saturated fatty acids | 2,2 g | 0,0 g |
| Dietary fiber | 0,4 g | < 0,1 g |
| Sodium | 0,742 g | 0,031 g |
| Calcium | 3971 mg | 166 mg 21 % |
| Amino acid | pro 100 g Protein |
| --- | --- |
| L-Alanine | 4,46 g |
| L-Lysin2 | 7,70 g |
| L-Arginine 1 | 5,22 g |
| L-Methionin2 | 1,59 g |
| L-aspartic acid | 11,31 g |
| L-Phenylalanin 2 | 4,35 g |
| L-cysteine 1 | 1,59 g |
| L-Proline | 6,13 g |
| L-glutamic acid | 18,39 g |
| L-Serine | 5,05 g |
| L-Glycine | 2,97 g |
| L-Threonin 2 | 4,91 g |
| L-Histidine 1 | 2,26 g |
| L-Tryptophan 2 | 1,44 g |
| L-Isoleucine 2 | 5,22 g |
| L-Tyrosin 1 | 3,47 g |
| L-Leucine 2 | 9,03 g |
| L-Valin 2 | 4,91 g |