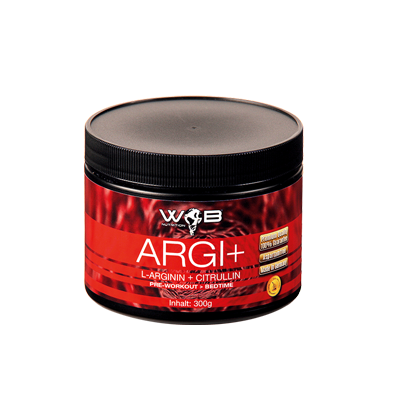 ARGI+ POWDER
100% L-arginine powder plus L-citrulline
L-arginine is responsible for a number of mechanisms in the body. It expands
the blood vessels which results in a better circulation of tissue and muscles. ARGI + is potency-enhancing. It may have a cholesterol-lowering effect, prevents vascular calcification and improves cardiac performance. It contributes significantly to wound healing after injury or surgery and has a detoxifying effect. By adding citrulline, the efficiency of arginine is increased.
L-arginine hydrochloride, L-citrulline-malate, release agents (silicon dioxide).
| Nährwerte | pro 100g | pro 5g |
| --- | --- | --- |
| physiologischer / Brennwert | 1306 kJ / 307 kcal | 65,3 kJ / 15,4 kcal |
| Eiweiß | 74,6 g | 3,73 g |
| Kohlenhydrate | < 0,1 g | < 0,01 g |
| - davon Zucker | < 0,1 g | < 0,01 g |
| Fett | < 0,1 g | < 0,01 g |
| - davon gesättigte Fettsäuren | < 0,1 g | < 0,01 g |
| Ballaststoffe | < 0,1 g | < 0,01 g |
| Natrium | < 0,001 g | < 0,001 g |
| L-Arginin-Hydrochlorid | 89,9 g | 4,50 g |
| - davon L-Arginin | 74,6 g | 3,73 g |
| L-Citrullin-Malat | 10,0 g | 0,50 g |
| - davon Citrullin | 7,0 g | 0,35 g |