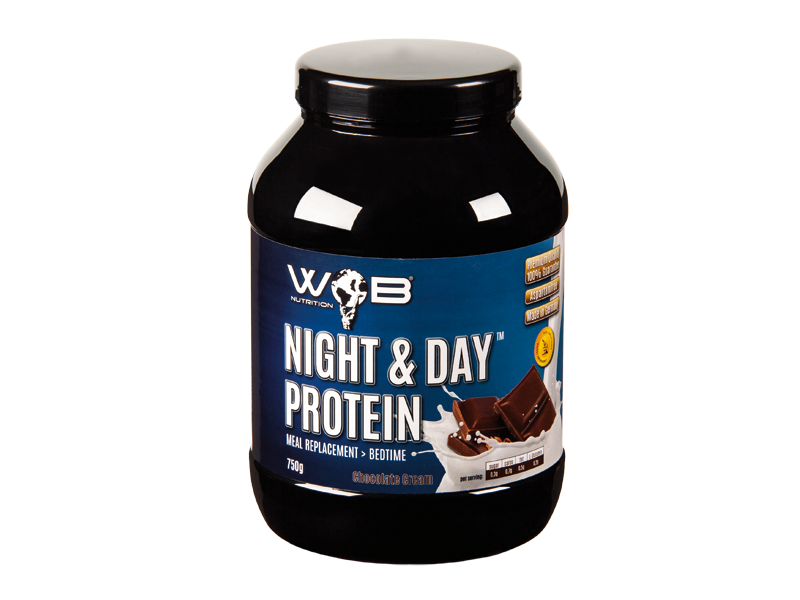 NIGHT & DAY PROTEIN
Supplement
NIGHT & DAY PROTEIN
High quality casein with amino acids for the preparation of a protein-rich cold drink.
Night & Day Protein is one of the highest quality casein products on the market that contains almost no lactose, fat, or sugar. The high and long-chain protein saturates your body for up to 6 hours and is ideal for a diet or during the night. Combines well with Liposuc or Lipogreen (page 19).
Milk protein powder (97.1%), flavoring, salt, citric acid (lactic acid), sweetener (sucralose), vanilla bean powder (0.07%).
| Analysis | pro 100g Product | pro Portion* |
| --- | --- | --- |
| physiological value | 1608 kJ/384 kcal | 482 kJ/115 kcal |
| Whey | 87,6 g | 26,3 g |
| Carbohydrates | 2,6 g | 0,7 g |
| of which sugars | 0,2 g | < 0,1 g |
| of which lactose | 0,2 g | 0,06 g |
| Fat | 1,1 g | 0,3 g |
| of which saturated fatty acids | 0,7 g | 0,2 g |
| Dietary fiber | < 0,1 g | < 0,1 g |
| Sodium | 0,407 g | 0,122 g |
| Amino acid | pro 100 g Whey |
| --- | --- |
| L-Alanine | 2,8 g |
| L-Lysin2 | 7,4 g |
| L-Arginine 1 | 3,3 g |
| L-Methionin 2 | 2,8 g |
| L-aspartic acid | 6,7 g |
| L-Phenylalanin 2 | 4,8 g |
| L-Cysteine 1 | 0,4 g |
| L-Proline | 10,0 g |
| L-glutamic acid | 20,5 g |
| L-Serine | 5,7 g |
| L-Glycine | 1,8 g |
| L-Threonin 2 | 4,0 g |
| L-Histidine 1 | 2,9 g |
| L-Tryptophan 2 | 1,2 g |
| L-Isoleucine 2 | 5,2 g |
| L-Tyrosin 1 | 5,3 g |
| L-Leucine 2 | 8,8 g |
| L-Valin 2 | 6,5 g |
| Analysis | pro 100g Product | pro Portion* |
| --- | --- | --- |
| physiological value | 1609 kJ/384 kcal | 483 kJ/115 kcal |
| Whey | 85,6 g | 25,7 g |
| Carbohydrates | 2,5 g | 0,7 g |
| of which sugars | 1,1 g | 0,3 g |
| of which lactose | 0,2 g | 0,06 g |
| Fat | 1,9 g | 0,5 g |
| of which saturated fatty acids | 1,2 g | 0,3 g |
| Dietary fiber | 2,5 g | 0,7 g |
| Sodium | 0,423 g | 0,126 g |
| Amino acid | pro 100 g Whey |
| --- | --- |
| L-Alanine | 2,8 g |
| L-Lysin 2 | 7,4 g |
| L-Arginine 1 | 3,3 g |
| L-Methionin 2 | 2,8 g |
| L-aspartic acid | 6,7 g |
| L-Phenylalanin 2 | 4,8 g |
| L-Cysteine 1 | 0,4 g |
| L-Proline | 10,0 g |
| L-glutamic acid | 20,5 g |
| L-Serine | 5,7 g |
| L-Glycine | 1,8 g |
| L-Threonin 2 | 4,0 g |
| L-Histidine 1 | 2,9 g |
| L-Tryptophan 2 | 1,2 g |
| L-Isoleucine 2 | 5,2 g |
| L-Tyrosin 1 | 5,3 g |
| L-Leucine 2 | 8,8 g |
| L-Valin 2 | 6,5 g |
| Analysis | pro 100g Product | pro Portion* |
| --- | --- | --- |
| physiological value | 1630 kJ/389 kcal | 488 kJ/116 kcal |
| Whey | 90,9 g | 27,3 g |
| Carbohydrates | 1,3 g | 0,4 g |
| of which sugars | 0,2 g | 0,06 g |
| of which lactose | 0,2 g | 0,06 g |
| Fat | 1,1 g | 0,3 g |
| of which saturated fatty acids | 0,8 g | 0,2 g |
| Dietary fiber | < 0,1 g | < 0,1 g |
| Sodium | 0,407 g | 0,122 g |
| Amino acid | pro 100 g Whey |
| --- | --- |
| L-Alanine | 2,8 g |
| L-Lysin 2 | 7,4 g |
| L-Arginine 1 | 3,3 g |
| L-Methionin 2 | 2,8 g |
| L-aspartic acid | 6,7 g |
| L-Phenylalanin 2 | 4,8 g |
| L-Cysteine1 | 0,4 g |
| L-Proline | 10,0 g |
| L-glutamic acid | 20,5 g |
| L-Serine | 5,7 g |
| L-Glycine | 1,8 g |
| L-Threonin 2 | 4,0 g |
| L-Histidine 1 | 2,9 g |
| L-Tryptophan 2 | 1,2 g |
| L-Isoleucine 2 | 5,2 g |
| L-Tyrosin 1 | 5,3 g |
| L-Leucine 2 | 8,8 g |
| L-Valin 2 | 6,5 g |