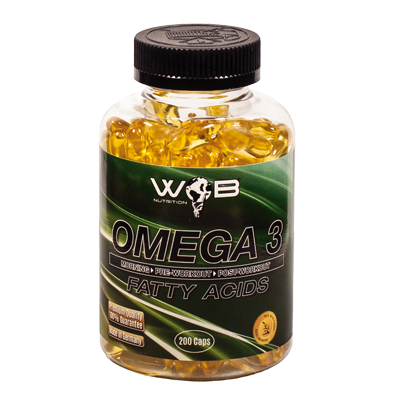 OMEGA 3
High quality Omega 3 fatty acid capsules with Vitamin E
The omega 3 fatty acids may be responsible for many processes: production of hormones, support of protein synthesis in the body, metabolism, grease supply for the joints, cell metabolism, formation of the body's own immune cells, protection against infection. They ensure a healthy cellular respiration and healthy skin and hair. Omega-3 fatty acids together with other vitamins are recommended for dry or brittle skin and hair because they provide the body with moisture.
fish oil with omega 3 fatty acids (18% EPA and 12% DHA); demineralized water. Softgel capsule shell: gelatin (bovine), Glycerin, Vitamin E (DL-alpha tocopherol acetate).
| Analysis | pro 100g | pro capsule(1450 mg) |
| --- | --- | --- |
| physiological value | 799 kJ / 191,2 kcal | 11,6 kJ / 2,8 kcal |
| Whey | 16,9 g | 245 mg |
| Carbohydrates | 26,5 g | 384 mg |
| Fat | 6,7 g | 97 mg |
| fish oil | 69,0 g | 1000 mg |
| of which Omega 3 | 20,7 g | 300 mg |
| of which DHA | 12,4 g | 180 mg |
| of which EPA | 8,3 g | 120 mg |
| Vitamin E | 827,6 mg | 12 mg |