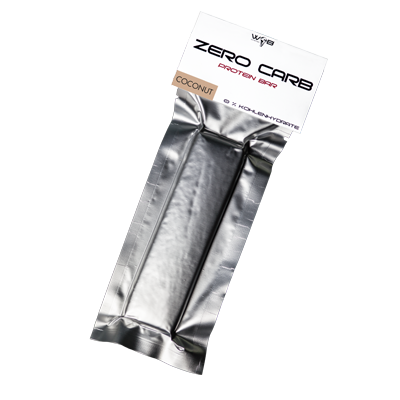 Zero Carb PROTEIN BAR
Supplement
Zero Carb Protein Bar
The protein bar with unique nutritional values.
WOB Nutrition is the first company worldwide to put a protein bar with less than 0.2 g of carbohydrates on the market. Perfectly suited for weight reduction or as a meal replacement.  Comes with MCT oil which is also enhancing the fat-burning process, ideal for a low carb or ketogenic diet. Available in three delicious flavors.
Tasty energy drink before exercise or between meals. Invigorates the body and supplies vitamins and amino acids for ideal recovery.
alpha-protein complex (calcium caseinate, whey protein isolate), Water, MCT oil, gelatin hydrolyzate, flavor, sodium cyclamate and saccharin sweeteners, emulsifiers: soy lecithin, sunflower lecithin.
| Nutritional value information | pro 100g | pro Riegel (50 g) |
| --- | --- | --- |
| physiological value | 1541 kJ / 368 kcal | 771 kJ / 184 kcal |
| Whey | 54,1 g | 27,1 g |
| Carbohydrates | < 0,3 g | < 0,2 g |
| Fat | 16,8 g | 8,4 g |
*%RDA = percentage of the recommended daily dose