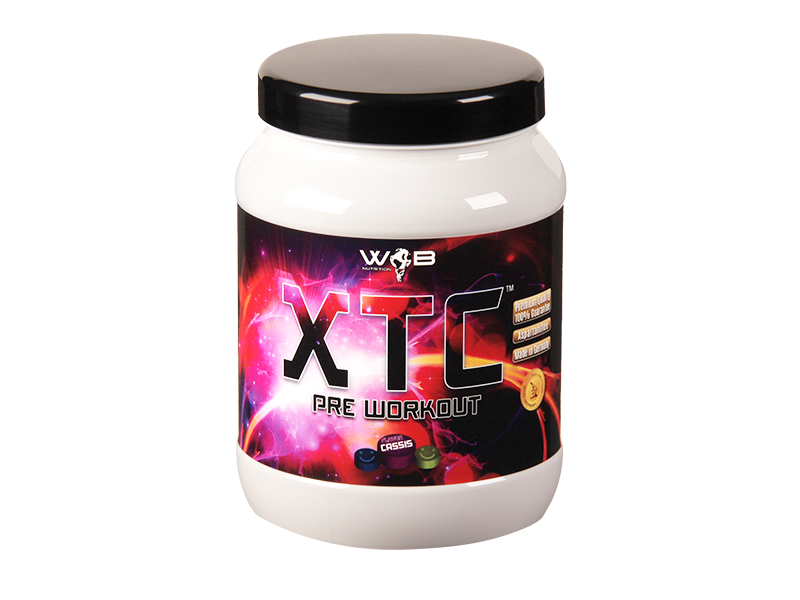 XTC
Drinking powder with arginine, isomaltulose, amino acids, creatine, taurine, caffeine and vitamins before training.
Specially designed for intensive muscular effort. XTC provides the body before workouts with all the essential nutrients that protect the muscle from premature fatigue and thus extend the exercise-induced muscle stimulus.
isomaltulose (a glucose and fructose source), dextrose, L-arginine hydrochloride, creatine monohydrate, taurine, corn starch (contains SO2), glutamine (contains gluten), L-leucine, acid (citric acid), flavor (contains lactose), elderberry fruit powder (maltodextrin, elderberry concentrate, sucrose, invert sugar syrup, citric acid) (2.0%), L-valine, L-isoleucine, D-ribose, guarana extract, L-lysine hydrochloride, L-methionine , L-threonine, sweeteners (acesulfam K, sucralose), caffeine, L-tryptophan, L-phenylalanine, L-ascorbic acid, D-alpha-tocopheryl acetate, nicotinamide, calcium D-pantothenate, pyridoxine hydrochloride, thiamin mononitrate, riboflavin, dye (Red pray (betanin)), pteroylmonoglutamic acid, D-biotin, cyanocobalamin.
Analyse
Pro 100 g
Pro Portion (8 g in 200 ml Wasser)
Physiologischer
Brennwert
1398 kJ/328 kcal

111 kJ/26,2 kcal

Eiweiß
25,4 g

2,0 g
- davon L-Arginin
11,6 g
0,93 g
- davon L-Leucin
4,0 g
0,32 g
- davon L-Valin
2,0 g
0,16 g
- davon L-Isoleucin
2,0 g
0,16 g
- davon L-Glutaminpeptid
1,2 g
0,1 g
- davon L-Lysin
0,6 g
0,05 g

- davon L-Methionin
0,6 g
0,05 g

- davon L-Threonin
0,6 g
0,05 g
- davon L-Tryptophan
0,3 g
0,02 g
- davon L-Phenylalanin
0,3 g

0,02 g
Kohlenhydrate
49,1 g

3,9 g
- davon Zucker
38,9 g

3,1 g
- davon Isomaltulose
20,7 g
1,7 g

Fett
0,1 g
< 0,1 g

- davon gesättigte Fettsäuren
< 0,1 g
< 0,1 g
Ballaststoffe
< 0,1 g
< 0,1 g
Natrium
0,067 g
0,005 g
Creatin
8,0 g
0,6 g
Taurin
5,0 g
0,4 g
Koffein
475 mg

38,0 mg
- davon aus Guaranaextrakt
100 mg
8,0 mg
| | Pro 100 g | %RDA** | Pro Portion | %RDA** |
| --- | --- | --- | --- | --- |
| Vitamin C | 240 mg | 300 | 19,2 mg | 24 |
| Niacin | 48,0 mg | 300 | 3,8 mg | 24 |
| Vitamin E | 36,0 mg | 300 | 2,8 mg | 24 |
| Pantothensäure | 18,0 mg | 300 | 1,4 mg | 24 |
| Vitamin B6 | 4,2 mg | 300 | 0,33 mg | 24 |
| Vitamin B2 | 4,2 mg | 300 | 0,33 mg | 24 |
| Vitamin B1 | 3,3 mg | 300 | 0,26 mg | 24 |
| Folsäure | 600 µg | 300 | 48,0 µg | 24 |
| Biotin | 150 µg | 300 | 12,0 µg | 24 |
| Vitamin B12 | 7,5 µg | 300 | 0,60 µg | 24 |