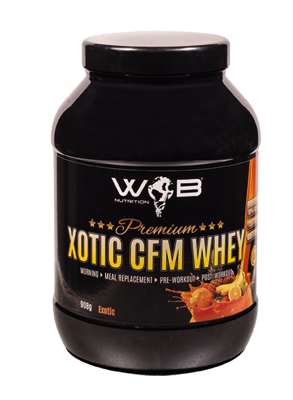 XOTIC CFM WHEY
Supplement
XOTIC CFM WHEY
Cross-flow micro-filtered whey-protein isolate to prepare a protein-rich cold drink.
XOTIC CFM Whey is produced without adverse influences such as heat – that way it is available in its original form. The result: 100% bioactive whey-protein isolate with a biological value of 104! This guarantees an extremely fast nutrient uptake in the muscles. Excellent supply of nutrients after training with an exotic fruity taste.
Whey protein isolate CFM (93.0%) (contains soy lecithin), flavoring, acidifier (lactic acid), papaya powder (maltodextrin, papaya powder, spray-dried papaya puree) (0.5%), orange powder (maltodextrin, spray-dried orange juice concentrate, acidity regulator citric acid) (0.5%), sweetening agents (sodium cyclamate, acesulfame K, saccharin), emulsifier (soy lecithin), coloring (beta-carotene, beetroot (betanin).
| Analysis | pro 100 g | %RDA* pro Portion 20 g + 200 ml water |
| --- | --- | --- |
| physiological value | 1606 kJ /378 kcal | 321 kJ /75,6 kcal |
| Whey | 85,8 g | 17,1 g |
| Carbohydrates | 5,6 g | 1,1 g |
| of which sugars | 1,8 g | 0,3 g |
| Fat | 0,9 g | 0,1 g |
| of which saturated fatty acids | 0,6 g | 0,1 g |
| Dietary fiber | < 0,1 g | < 0,1 g |
| Sodium | 0,260 g | 0,052 g |
| Amino acid | pro 100 g Protein |
| --- | --- |
| L-Alanine | 5,00 g |
| L-Arginine 1 | 2,10 g |
| L-aspartic acid | 11,00 g |
| L-Cysteine 1 | 2,20 g |
| L-glutamic acid | 18,10 g |
| L-Glycine | 1,40 g |
| L-Histidine 1 | 1,70 g |
| L-Isoleucine 2 | 6,40 g |
| L-Leucine 2 | 10,60 g |
| L-Lysin 2 | 9,60 g |
| L-Methionin 2 | 2,20 g |
| L-Phenylalanin 2 | 3,00 g |
| L-Proline | 5,50 g |
| L-Serine | 4,60 g |
| L-Threonin 2 | 6,70 g |
| L-Tryptophan 2 | 1,40 g |
| L-Tyrosin 1 | 2,60 g |
| L-Valin 2 | 5,90 g |
20 g + 200 ml water, 1 semi-essential amino acid, 2 essential amino acid