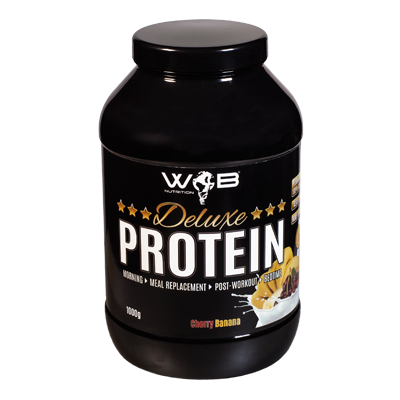 DELUXE PROTEIN
Supplement
DELUXE PROTEIN
Multi-component protein with vitamins to prepare a protein-rich cold drink.
Protein Deluxe is available in 13 different, delicious flavors. It consists of high quality milk protein and whey protein. It combines short-chain and long-chain protein and can thus be taken after training or as a meal replacement. The mixing ratio of the components results in a high bio-availability.
Milk protein concentrate (45.4%), whey protein concentrate (45.0%) (contains soy lecithin), thickener (guar gum, xanthan gum), flavoring, white egg powder (1.0%), sweeteners (sodium cyclamate, acesulfame K, saccharin), L-ascorbic acid, nicotinamide, vanilla bean powder (0.07%), DL-alpha tocopheryl acetate, calcium D-pantothenate, riboflavin, pyridoxine hydrochloride, thiamin mononitrate, coloring (beta carotene, riboflavin), Pteroylmonoglutaminsäure, D-biotin, cyanocobalamin.
| Analysis | pro 100g | pro Portion 30 g + 300 ml water |
| --- | --- | --- |
| physiological value | 1653 kJ / 390 kcal | 496 kJ / 117 kcal |
| Whey | 77,1 g | 23,1 g |
| Carbohydrates | 8,4 g | 2,5 g |
| of which sugars | 5,9 g | 1,7 g |
| of which lactose | 5,5 g | 1,6 g |
| Fat | 4,0 g | 1,2 g |
| of which saturated fatty acids | 2,4 g | 0,7 g |
| Dietary fiber | 3,3 g | 1,0 g |
| Sodium | 0,257 g | 0,077 g |
| Vitamins | pro 100g | %RDA* | pro Port. 30 g + 300 ml Wasser | %RDA* |
| --- | --- | --- | --- | --- |
| Vitamin C | 240,0 mg | 300 | 72,0 mg | 90 |
| Niacin | 48,0 mg | 300 | 14,4 mg | 90 |
| Vitamin E | 36,0 mg | 300 | 10,8 mg | 93 |
| Pantothenic Acid | 18,0 mg | 300 | 5,41 mg | 90 |
| Vitamin B6 | 4,2 mg | 300 | 1,3 mg | 90 |
| Vitamin B2 | 14,2 mg | 1014 | 4,2 mg | 300 |
| Vitamin B1 | 3,3 mg | 300 | 1,0 mg | 90 |
| Folic Acid | 600 µg | 300 | 180 µg | 90 |
| Biotin | 150 µg | 300 | 45,0 µg | 90 |
| Vitamin B12 | 15,2 µg | 608 | 4,5 µg | 180 |
| Aminosäure | pro 100g Eiweiß |
| --- | --- |
| L-Alanine | 4,13 g |
| L-Lysin 2 | 8,58 g |
| L-Arginine 1 | 2,87 g |
| L-Methionin 2 | 2,32 g |
| L-aspartic acid | 9,12 g |
| L-Phenylalanin 2 | 3,92 g |
| L-Cysteine 1 | 1,34 g |
| L-Proline | 7,98 g |
| L-glutamic acid | 18,59 g |
| L-Serine | 4,85 g |
| L-Glycine | 1,76 g |
| L-Threonin 2 | 5,54 g |
| L-Histidine 1 | 2,13 g |
| L-Tryptophan 2 | 1,66 g |
| L-Isoleucine 2 | 5,77 g |
| L-Tyrosin 1 | 3,70 g |
| L-Leucine 2 | 9,97 g |
| L-Valin 2 | 5,76 g |
Flavours:
BANANA
COOKIES & CREAM
WILD BERRY
BLUEBERRY
HAZELNUT
COCONUT
PISTACHIO
LEMON
BANANA CHERRY