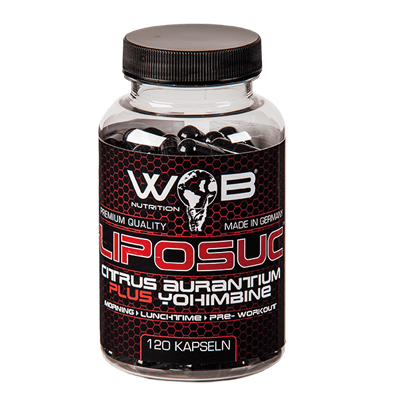 LIPOSUC
Yohimbine strong fat burner for those stubborn areas.
Thermogenically acting properties and vein dilation through Yohimbine leads to an easier elimination of fat cells, especially in the lower abdomen regions.
cellulose filler, caffeine, gelatin (capsule), Citrus aurantium extract, green tea extract powder release agent (magnesium stearate, silicon dioxide), Yohimbine extract, colors (E172, E171).
| Nutritional value information | pro 100 g | pro capsule |
| --- | --- | --- |
| physiological value | 718 kJ/172 kcal | 4,8 kJ/1,1 kcal |
| Whey | 18,9 g | 0,1 g |
| Carbohydrates | 7,8 g | < 0,1 g |
| Fat | 1,4 g | < 0,1 g |
| Citrus aurantium extract | 16593 mg | 112 mg |
| of which Synephrine | 993 mg | 6,7 mg |
| Yohimbine extract | 741 mg | 5,0 mg |
| of which Yohimbine | 14,8 mg | 0,1 mg |
| green tea extract | 14815 mg | 100 mg |
| of which caffeine | 1037 mg | 7,0 mg |
| caffeine | 21185 mg | 143 mg |
| total content caffeine | 22222 mg | 150 mg |