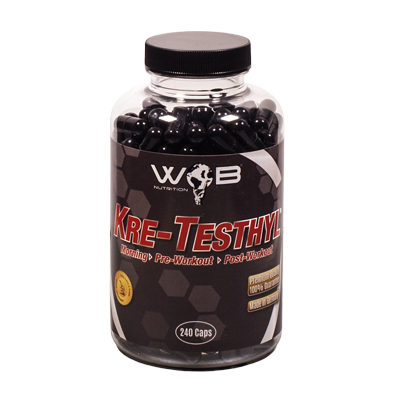 KRE-TESTHYL
Patented Creatine supplement with B vitamins for explosive strength and muscle building.
This specially developed creatine in combination with B vitamins is more readily absorbed by the cells and increases the training performance. More explosive and maximum strength and increased endurance are the result. Better recovery after intense workouts and an increase in training volume.
Creatine ethyl ester malate, gelatin (capsule), releasing agent (magnesium stearate, silicon dioxide), colors (E 172, E 171, E 122), nicotinamide, pyridoxine hydrochloride.
| Analysis | pro 100g | pro capsule |
| --- | --- | --- |
| physiological value | 729 kJ /170 kcal | 6,1 kJ /1,4 kcal |
| Whey | 12,1 g | 0,1 g |
| Carbohydrates | < 0,1 g | < 0,1 g |
| of which | < 0,1 g | < 0,1 g |
| Fat | 1,9 g | < 0,1 g |
| of which saturated fatty acids | 1,9 g | < 0,1 g |
| Dietary fiber | < 0,1 g | 0,0 g |
| Sodium | 0,003 g | < 0,001 g |
| Creatine ethyl ester malate | 82742 mg | 700 mg |
| Niacin | 851 mg | 3,2 mg |
| of which RDA* | 2363 % | 20 % |
| Vitamin B6 | 74,5 mg | 0,27 mg |
| of which RDA* | 2364 % | 20 % |