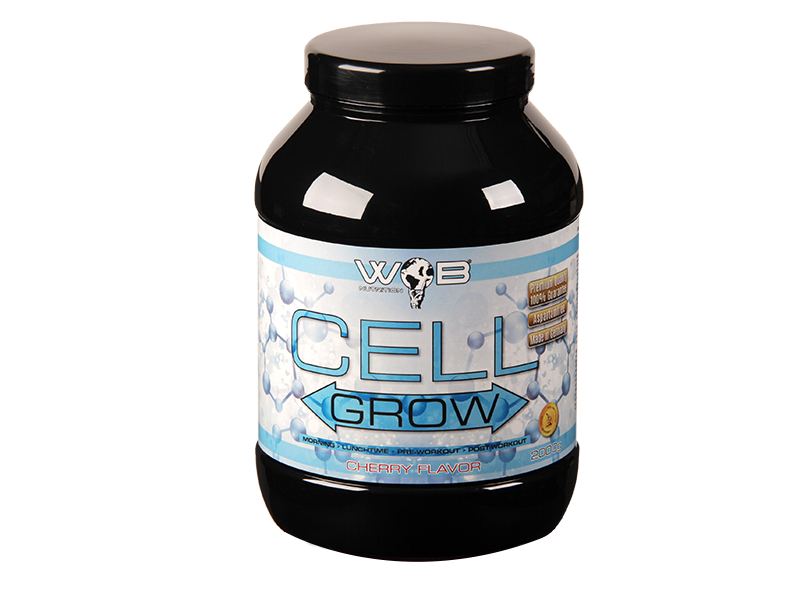 CELL GROW
Drinking powder with carbohydrates, vitamins, Minerals, creatine, protein and amino acids for preparing a cold drink.
A product especially developed for muscle growth. The combination included induces a rapid cell growth in the muscles and supports the regeneration process.
Dextrose, creatine monohydrate, L-glutamine, fructose, taurine, sour cherry juice powder (2.0%) *, whey protein concentrate, citric (citric acid), flavoring, coloring elderberry fruit powder (maltodextrin, elderberry concentrate, sucrose, invert sugar syrup,  citric acid), tri-potassium citrate, salt, magnesium carbonate, release agents (silicon dioxide), L-isoleucine, L-ascorbic acid, L-valine, L-leucine, nicotinamide, dl-alpha tocopheryl acetate, calcium D-pantothenate, riboflavin, pyridoxine hydrochloride, thiamine mononitrate , color (red beet (betanin)), pteroylmonoglutamic acid, D-biotin, cyanocobalamin.
* contains gluten, soy lecithin, milk powder, almond milk, sesame seeds.
| Analysis | pro 100 g | pro Portion 8 g + 200 ml water |
| --- | --- | --- |
| physiological value | 1220 kJ / 286 kcal | 97,6 kJ / 22,9 kcal |
| Whey | 11,7 g | 0,9 g |
| of which Isoleucine | 0,5 g | 0,04 g |
| of which Leucine | 0,25 g | 0,02 g |
| of which Valin | 0,25 g | 0,02 g |
| Carbohydrates | 55,9 g | 4,4 g |
| of which sugars | 52,6 g | 4,2 g |
| Fat | < 0,1 g | < 0,1 g |
| of which saturated fatty acids | < 0,1 g | < 0,1 g |
| Dietary fiber | 0,0 g | 0,0 g |
| Sodium | 0,274 g | 0,021 g |
| Creatin-Monohydrat | 20,0 g | 1,6 g |
| of which Creatine | 17,6 g | 1,4 g |
| L-Glutamin | 10,0 g | 0,8 g |
| Taurin | 3,0 g | 0,24 g |
| Vitamins | pro 100g (RDA*) | pro Portion 8 g + 200 ml Wasser (RDA*) |
| --- | --- | --- |
| Vitamin C | 340 mg (425 %) | 27,2 mg (34 %) |
| Niacin | 48,0 mg (300 %) | 3,8 mg (24 %) |
| Vitamin E | 36,0 mg (300 %) | 2,8 mg (24 %) |
| Pantothenic Acid | 18,0 mg (300 %) | 1,4 mg (24 %) |
| Vitamin B6 | 4,2 mg (300 %) | 0,33 mg (24 %) |
| Vitamin B2 | 4,2 mg (300 %) | 0,33 mg (24 %) |
| Vitamin B1 | 3,3 mg (300 %) | 0,26 mg (24 %) |
| Folic Acid | 600 µg (300 %) | 48,0 µg (24 %) |
| Biotin | 150 µg (300 %) | 12,0 µg (24 %) |
| Vitamin B12 | 7,6 µg (307 %) | 0,61 µg (25 %) |