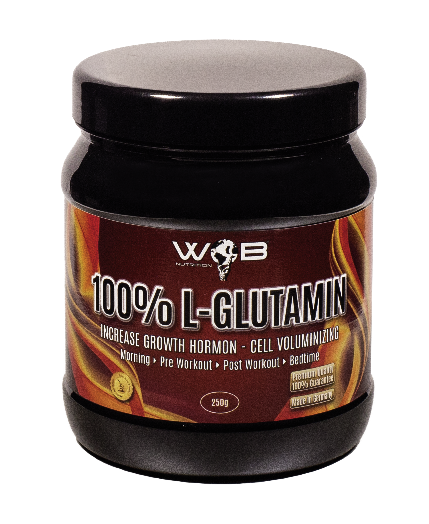 100% L-GLUTAMIN
Supplement
100% L-GLUTAMIN
L-Glutamine – the most important amino acid in addition to the BCAA's
L-glutamine plays a crucial role in the muscles. It promotes an increase in cell volume, increases efficiency and strengthens the immune system.
L-glutamine can exert a positive influence on the growth hormones.
Thus, L-glutamine is the perfect partner for sports and endurance sports.
| Nutritional information | pro 100 g | pro 3g |
| --- | --- | --- |
| physiological value | 1700 kJ / 400 kcal | 51 kJ / 12 kcal |
| Whey | 100 g | 3 g |
| of which L-Glutamin | 100 g | 3 g |
| Carbohydrates | < 0,1 g | < 0,1 g |
| of which sugars | < 0,1 g | < 0,1 g |
| Fat | < 0,1 g | < 0,1 g |
| of which saturated fatty acids | < 0,1 g | < 0,1 g |
| Sodium | < 0,001 g | < 0,001 g |
| Nutritional information | pro 100g | pro Kapsel (920mg) |
| --- | --- | --- |
| physiological value | 1636 kJ / 391 kcal | 15 kJ / 3,6 kcal |
| Whey | 78 g | 717 mg |
| L-Glutamin | 65 g | 600 mg |
| Carbohydrates | 17 g | 157 mg |
| Fat | 0,1 g | 1,2 mg |
| Nutritional value information | pro 100 g | pro 3g |
| --- | --- | --- |
| physiological value | 1700 kJ / 400 kcal | 51 kJ / 12 kcal |
| Whey | 100 g | 3 g |
| of which L-Glutamin | 100 g | 3 g |
| Carbohydrates | < 0,1 g | < 0,1 g |
| of which sugars | < 0,1 g | < 0,1 g |
| Fat | < 0,1 g | < 0,1 g |
| of which saturated fatty acids | < 0,1 g | < 0,1 g |
| Sodium | < 0,001 g | < 0,001 g |